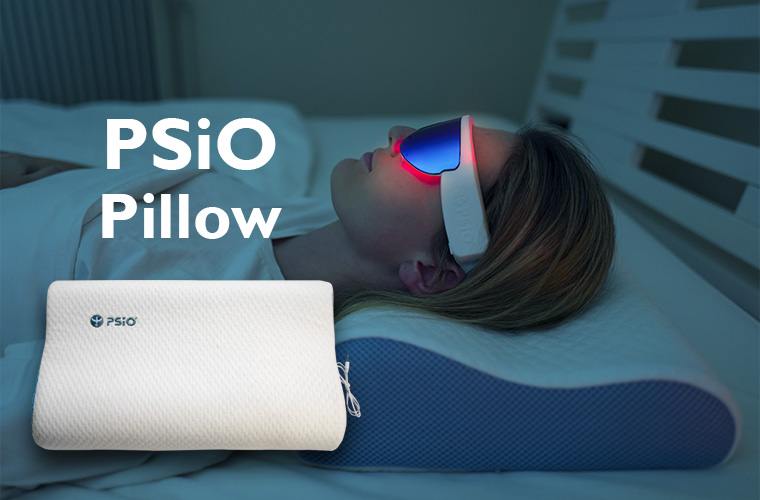 Connection to your pillow
Your musical & olfactory « PSiO Pillow » is ready for use as soon as you connect it to your PSiO glasses.
Set the volume directly on your PSiO glasses (see audio volume adjustment button on the glasses) and adjust the hearing level so that it is comfortable. For the night we recommend the minimum setting level.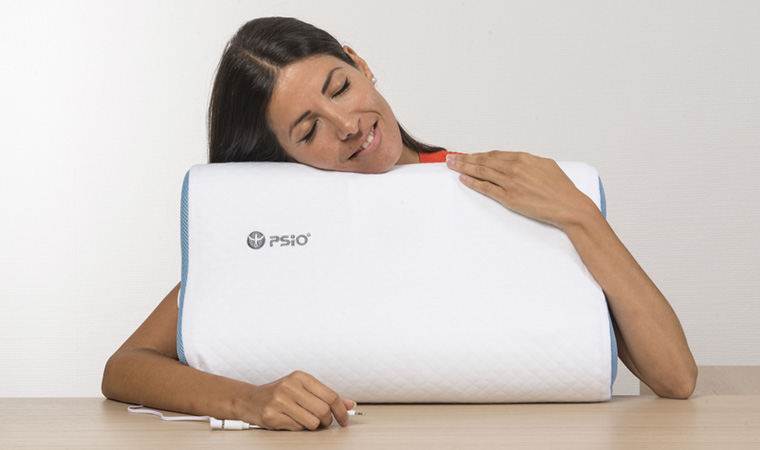 Usage tips
When you are ready to do a session with the Essential Oils and with the PSiO glasses connected to the audio pillow, remove the pillowcase. The inner pillow cover has an opening which you can open in order to have access to the foam cube compartment. We invite you to soak the foam cube with 20 to 30 drops of essential oils.
Then close and place back the pillowcase, making sure that the connecting wire is passed through the cover. You can inter-change the foam cubes in your pillow and thus modify the olfaction according to your objective.
Foam cube compartment and foam cube : for the chosen natural diffusion of the essential oil blend.
N.B. : oil blends (DYNAMIC - RELAX - SLEEP) and colored foam cubes are supplied separately.

The memory foam of the pillow is « ORGANIC »
Our polyether foams contain mainly polyols and isocyanates. Our factory is certified ISO 9001 - ISO 14001.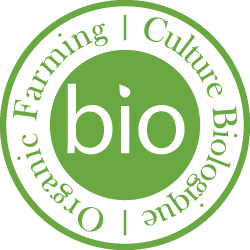 They are made up largely of soybean foams : these are polyether foams in which some of the polyols are replaced by soybean extracts.
This process has been developed to respond to the « organic » wave while achieving optimum characteristics.

The memory foam shape of the PSiO pillow is a foam made in part with soy extracts (10 to 15 % renewable raw materials).
It also obtained :
the highest level of the « ÖKO-TEX standard 100 » certificate, i.e. Class 1 (baby class),

the « HYG-CEN » certificate.
We take care to exclusively use soybean extracts that have not been modified genetically.
All our foams also correspond to the new European legislation « R.E.A.CH » (Registration, evaluation, authorization of chemicals).
Foam cube compartment and foam cube : for the chosen natural diffusion of the essential oil blend.

2 Speakers.

Soy foam with memory shape.
POLYURETHANE - POLYETHER FOAM code P27coul Type : Isocyanate of polyurethane (code PUR) Components : TDI + Polyol Environemental conformity - Reach : 2037/2000/CE – This product do not contain chlorofluorocarbon (CFC) and bromochloromethane - CFC FREE 2002/96/CE – This product may be reused or recycled as delineated in the EEC directive.